This year, I've written a Christmas card to my MP, Chris Skidmore, asking him to support electoral reform.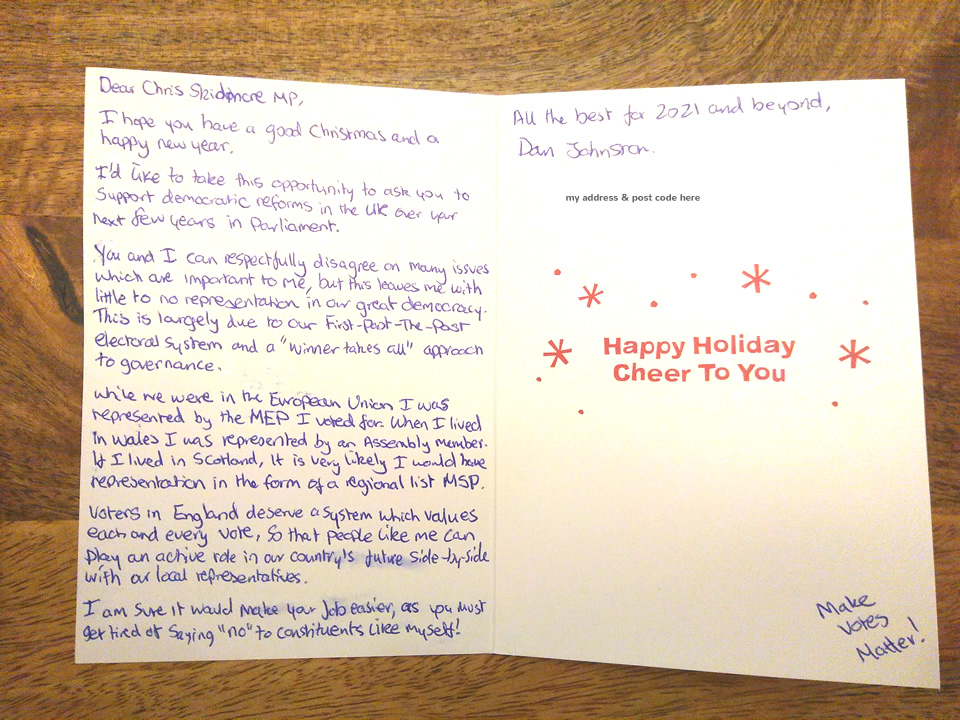 Full text:
Dear Chris Skidmore MP,
I hope you have a good Christmas and a happy new year.
I'd like to take this opportunity to ask you to support democratic reforms in the UK over your next few years in Parliament.
You and I can
respectfully disagree on many issues which are important to me
, but this leaves me with little to no representation in our great democracy. This is largely due to our First-Past-The-Post system and a "Winner Takes All" approach to governance.
While we were in the European Union I was represented by the MEP I voted for. When I lived in Wales I was represented by an Assembly Member. If I lived in Scotland, it is very likely I would have representation in the form of a Regional List MSP.
Voters in England deserve a system which values each and every vote, so that people like me can play an active role in our country's future side-by-side with our local representatives.
I am sure it would make your job easier, as you must get tired of saying "no" to constituents like myself!
All the best for 2021 and beyond,
Dan Johnston
---
Chris' Reply
I have annotated Chris' Reply here, click the image to see it bigger:

NOTE: I did put these points to Chris in another email, and to his credit he forwarded me to the minister currently responsible - but her reply was pretty much the same as Chris' original reply and isn't really useful here.